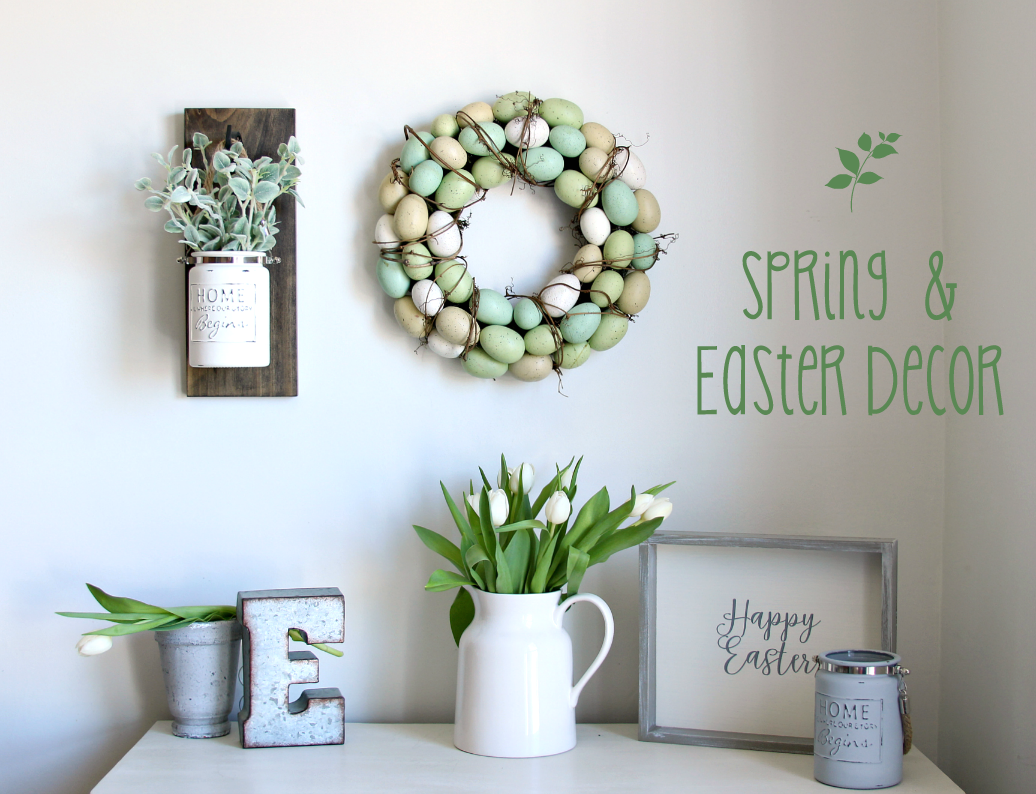 Spring Holiday Affordable Rustic Décor: Buy It Instead of DIY It
DIY Without the Sweat, Glitter or Curse Words: Spring & Easter Rustic Decor 
One element of rustic interior design to love is when items look as if you created them with your own two hands. It takes us back to a time when one could sit at home finding creative ways to utilize the tools and materials around the house to liven up the surroundings.

This nostalgia, or perusing Pinterest, may convince some out there between work, family, and/or school obligations (not to mention an unhealthy Netflix habit), you might be able to fit a random craft or two in there. Why not?

The reality is even if you have the willpower or the artistic inclination, sometimes it just doesn't get done in time. With East coming up VERY soon, it may be a good idea to splurge on a couple of items rather than inviting anymore unneeded stress into your life with a set of DIY projects that must be done by a strict deadline!

Here are some favorites for rustic décor for Easter that will add a colorful, timeless touch to your holiday without breaking your savings account.


 Easy Easter Decoration Ideas
Wall Décor

Customized and limitless, there are tons of options for Spring & Easter themed wall décor. A lot of them are affordable too!
One of the most common rustic wall decors are wooden signs. In search of something special, and small size I found perfect one for my home, of course in Kirkland's.  This "Happy Easter" sign measures 12L x 1.5W x 10H in . 
Another awesome find we particularly like this Easter Egg Foam Wreath found also on Kirkland's. It adds the theme of the Easter without going over the top kept in pastel colors and rustic feel. 
Very popular and really "four season" decor are wall sconces with hanging decorative jar. I particularly like this wall sconce, because jar comes in 3 different colors: White, Linen or Gray. 
Chic, Rustic Mason Jar Accents 
You can never have enough mason jars! Why not add some Easter & Spring theme jars to your decorations? Throw in some fresh flowers to add a nice centerpiece for the table or the wall. 
These hanging jars I mention above can also be used as vase for flowers or standing alone as a table centerpiece. Amazing saying " Home is where our story begins" make this jar very attractive & unique decor. 
Another, more Easter accent options for mason jars, are these pastel and distressed jars with burlap and bunny accents takes a playful twist on this trendy rustic style. 
Take Your Easter Eggs to the Next Level

We've all done the thing where you buy the Easter egg dye then make a huge mess. It is fun. However, the tie dye mess isn't always the most aesthetically pleasing.

If you want Easter Eggs with a more sophisticated flare there are a lot of options out there.

Here are some of our favorite:
Speckled Chicken Eggs 9 Pack from World Market
My last decor arrived just yesterday. I'm so in love with this handmade burlap bunny I bought this cutie from Etsy shop called OldSchoolSpecialties 
    check this store for me colors.
When Choosing Rustic Décor Items Remember One Thing: Keep It Simple 

You don't need to buy all of the things at once to create a rustic ambience. Start small with springtime holiday rustic décor then build on your collection as the years pass. You'll be surprised how much you can collect without the headaches of a million supplies needed to execute DIY projects.

Happy Spring!