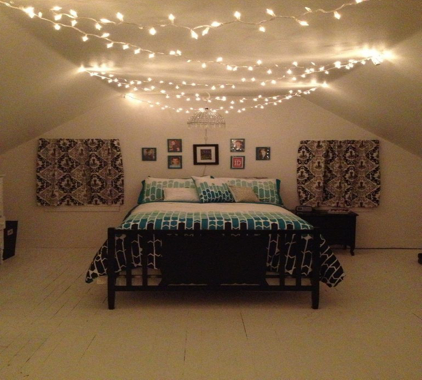 Decorating a small place is just as easy as decorating a large place. All you require is a streak for invention and a good eye for what works and goes well with your space and what does not. We have mentioned few tips to make it easy for your small space décor.
LET THERE BE LIGHT
Light opens and livens up small spaces. Let natural light along with big windows to be the highlight of your space. Choose lighting options that do not take physical space in the room and can be easily hung on wall or dangle from the ceiling. Using fairy or string lights to decorate your wall or bookcases.
KEEP BIGGER ITEMS ON THE CORNERS
Keep bigger items like bookshelves, couches, etc., on the corners of the room instead of the middle. Keeping it on the corners will provide more uniformity, create more space and make the small space look more open.
LOOK FOR MULTI-PURPOSE AND FOLDING FURNITURE
Furniture which can be used for various purposes or can be folded and stacked away easily are more useful in small space. You can buy desks, dining tables, extra counters or even beds which can easily be folded or used for various purposes.
MIRRORS
Add big or circular mirrors on your wall to reflect light and add color to your room. You can even create a gallery wall with various shapes and sizes of mirrors to add that special and chic style to your home décor.
GO BOLD
Bold color palettes, accessories, and furnishings go well in small space décor items. Go bold with your taste and if you do not want to go over the top, use colorful cushions, curtains, frames, or small accessories to add color to your space.
RUGS
Use large rugs to cover up portions of your floor. Different textures and patterns rug are in trend. Choose them in such a way that it goes with your furnishings or if you want to mix and match, go for it. Also, keep in mind the size of your rug should be in proportion to your room but choose as big as you can. Rugs give a feeling of a larger room.
ART
Add abstract arts and frame to your tabletops, shelves, and walls. They provide more color and do not take much space. Go for abstract art as they will make your home décor look airy and warm.
FLOWERS AND PLANTS
Brighten up your space with flowers and plants. Use different colored flowers and potted plants. Potted plants go well in corners of the room and flowers can be used to decorate your desks or bookcases. You can also stack them up against a window in your room as small decoration items.
WALL-MOUNTED SHELVES
Instead of straight-up going with cupboards, go with high wall-mounted shelves. They will provide more space for your storage and also serve as a great place to decorate. Add flowers, books, lighting, frames, and many more accessories you deem fit to attain a homely feeling. It also looks modern and transitional.
STORAGE SPACE
Make use of your storage space as much as you can. Add hooks, shelves, pin-ups, etc., to store your possessions. Make your room as clutter-free as possible to give you more space for décor and other necessary furnishings.
Decorating small spaces are a lot easier and more fun to do. It just requires special attention to detail. Use these many ideas to decorate your small space and live in the new look and feel of the result.