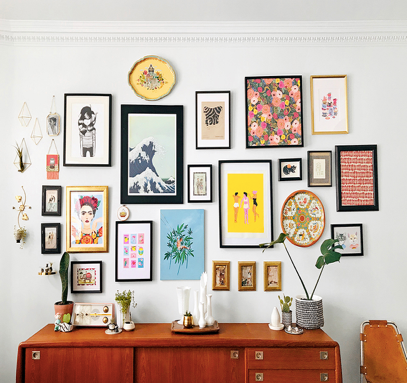 SIMPLE WAYS TO ADD COLOR TO YOUR HOME
"Sometimes all you need is a little splash of color."
Color sets the mood and tone of your home. Adding colors can be calming, relaxing, and energetic for an individual. Using even minimalistic and monochromatic color trends isn't going anywhere soon. Adding color to your home does not require big splashes, even the littlest touches go a long way.
We have mentioned a few simple ways to help you with home décor and add color to your home and your life.
MIX AND MATCH CUSHIONS
Add different colored or patterned cushions to your living room. Use contrasting colors while mixing and matching different accessories in your living room.
LAMPS AND VASES
Adding colorful lamps will not only add light to your room, but it will also bring lots of colors. Go for adding colors in a pair for striking looks. Adding vases, in the same way, will also add color to your home and give a warm and comfy look to your space.  
GALLERY WALL
Dedicate a gallery wall to add color to your wall décor. Hang different bright colored frames on your gallery wall. Hang the frames in a mismatched manner, use various sizes and a variety of colors.
REFLECT LIGHT AND COLOR
Add up a big mirror on one of your walls. Choose a mirror that has an artistic frame or color it with bright colors. The mirror will reflect the lights and colors of your room.
ART
Bring life and color to blank walls in your home décor by adding vibrant arts. Invest in a single large piece. If you want to go for a heavy look, add many small pieces.
DIFFERENT PAINT EFFECTS
Instead of going with just one shade for your walls, go for contrasting hues and graphic designs with different colors to add life to your room. Adding color to the wall will bring out other accessories of the room and liven up space.
PAINTED FURNITURE
Turn your bookcase or a china cabinet into a showstopper by painting them. Adding painted furniture to your home will give a bold and catchy look to it.
USE APPLIANCES THAT CATCHES THE EYE
Use different and trendy appliances for your home décor that catches and holds the attention of an individual. They are small home décor items that look cute, go with your rooms, and brighten up space.
BOLD WINDOW FEATURES
Using both bright and soft colors on curtains can bring immense color to one's living room. Using patterned or differently textured curtains with colors also go well in adding color to your home.
PICK A FAVOURITE
Concentrating on even adding a single color to your room goes a long way. Focus on using more shades of the same color if you want your room to look simple and to remain constant.
 FLOWERS AND PLANTS
Using colorful flowers and plants is the best way to add color and life to your home. They are small home décor items that look chic, create a welcoming and warm feeling to one's place.
There are various ways that are simple and affordable to add color to your home. An individual's mood can turn positive if there is a presence of warm and cheerful colors around him. What better way to add color to one's life than adding color to one's home?