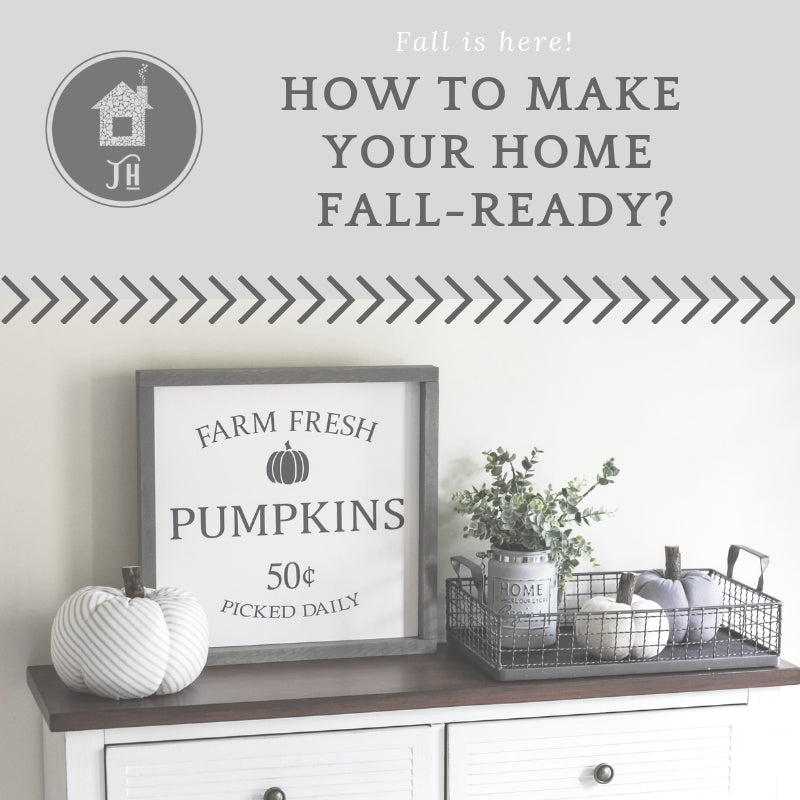 How to make your home "fall-ready"
Finally Fall is here! At least some of us will dare to say that!  I do for once say that at loud, don't understand me wrong, I'm totally not a fan of cold & rain, but I love to decorate, and fall and winter are so much fun ( decorating wise mostly). Endless possibilities in colors and patterns. Each year you can add or switch things around, without stretching your home budget.
So let's get little excited, it's finally time of spice pumpkin lattes, warm blankets and some cute fall home decorations. Sometimes we got overwhelmed and stressed out while realizing it's mid October, and instead of nice wreath or couple pumpkins by the door the only thing we can find are at least 4  pairs of flip flops and 3 pairs of sunglasses. I get it, kids are back in school, busy achieving greatness and attending all other extra activities that are possibly available in your area, your dog is not cooperating, asking to be walked before 6, or be play with, when you got  laundry to fold or started cooking dinner..  You don't even know if your husband wearing clean or not- so-much- clean socks, you can not even think how to start to make your home "fall-ready" . 
Don't worry my friend, I got you. I will go step by step and see what your home needs to be fully and simply Fall-decorated.    
One of the most popular items are wreaths. You just need to pick one and hang on your front door or even inside your home. Yes, you read it right, wreaths  are amazing as an indoor decor. They can be attached to frames, mirrors, back of the chairs, hanging on the walls with or without tobacco baskets.   
Here is couple wreaths I found on online and I wanted to share with you: 
         (Shop: EmersonAndBelle )                          (Shop: AshlandHartFloral)                       
Second most poplar fall season decor are Pumpkins. You can get them in all colors and sizes, at your local stores like Home Depot, Loews or Trade Jose ( they have the best mini pumpkins!!).  I'm huge fan of Fabric, Felt & Knit Pumpkins, that can match your current home decor. You can't go wrong with these, they are budget friendly because you can use these in following years.
Another great and very practical decor idea are pillows and blankets, because  who doesn't like to snuggle on the couch with cup of hot cocoa, and super large scoop of marshmallows??..ok ok.. for my sugar-gluten-lactose free weirdos- yes, hot  organic tea will work too :) 
               (Shop: SweetBerryGifts )
  (Shop: LiLiKnits )                                       ( Shop: AbbeyRoadEmbroidery )
My favorite of all the decor are wooden signs.  Seasonal signs can come in different sizes and colors, to fit any room perfectly. Traditionaly you can hang them on the wall, but if you want to save yourself headache asking your husband  to do two holes and then waiting at least 2 weeks for him to complete this task, leave it on the shelve or the mantel, even counter top in the kitchen. 
I use my entryway table for my "Farm Fresh Pumpkins" with these fabric custom made pumpkins. Feel so light and cozy,  made me smile each time I see it.
(shop: Jarful House)
Smaller signs are cute, and easy to rearrange. This "Thankful" signs would look amazing on the mantel, but since I don't have one yet, I just let it stand on my wooden console table.   
( shop: Jarful House) 
 For you who are blessed with mantel or at least nice floating shelve I found very cute decor idea - Fall/ Thanksgiving Banner. They are very practical and easy to install.  
 (shop: SayItInBurlap )
Decorating house always makes me think of times when I was little and one of most import thing for my mom  was to have festive kitchen table. House was always open, people were stopping just for coffee and cakes, causally, and yes without calling or texting first ( can you believe it?). Our  family table was always "ready"..  and I think this memory stacked with me all these years later.  
In my opinion one of the most important thing in decorating table is not to overdo it. Decide what will be your main thing, for example choose between vase or tray, but try to not use them both.
As you probably noticed by now, I'm a little bit crazy about decorating,  so any "reason" to switch or change something is "good" reason :) I had idea that from Monday to Friday, I'll try to set up simple decor, some mason jars, spelling FALL are ideal, maybe with some fall flowers. This year I decided for white-cream & greens, but next year might be orange or brown again.:) 
(shop: Jarful House)
On the weekends I use my wooden, two tiered tray, with fresh, white mini pumpkins, large pine cones, Jarful House " Autumn Blessing" mini sign  and some faux eucalyptus branches. I also love to add some Rea Dunn collection pottery, or  other little jars or jugs. My colors this year are greens, grays and white, but follow your style and color choices, orange is still number one in fall season.
( Shop: Jarful House) 
Speaking of table and table decor, just got amazing idea how are the other ways  add some fall feeling to your kitchen. Table runners, napkins and coasters are very simple and inexpensive way to bring season to your kitchen/ dinning room. 
(Shop:  SimpleWoolWhims )                                       (Shop: KitchStudios )
If you rather choose plain, white napkins instead, but you would like to add some fall accent to your table - check this mesmerizing real tree leaf. This handcrafted decoration, will definitely transform your "everyday" dinning table into festive holiday charm.     
(shop: DibbidyDesigns )
Beside table linen, you can't never go wrong with pottery and cutlery. Wonderful accent that you can admire everyday serving coffee and these yummy pies.. :) Please don't lie to yourself, there will be a lots of pies... and that's super ok.
(shop: swiftcreekgifts )                                                                  (shop: shesacrafty1 )
Last but not least, I highly recommend to make sure your home is not only fully decorated but also smells like Fall. Candles, soap bars and lotions are must -have items. Here is couple of my favorites. 
 (Shop: Heirloom Candles)                                                       (Shop: SneedsboroSoap )
I hope you find this article helpful , if you have any other ideas or questions please comment below. I can't wait to hear about your  "must-have" decoration ideas. Stay warm & cozy my friends.